Check it out!
With lots of open space, crystal fresh air, and a landscape that invites you to explore, Montana is an outdoor enthusiast's paradise! Montana is also rich in culture, so there are a lot of cool places to visit.
Answering the Call of the Wild:
Dog Sledding in Montana
Updated: August 18, 2020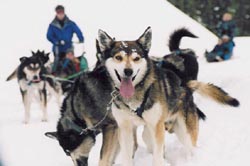 If after reading The Call of the Wild you secretly yearned to hitch a team of huskies and yell "mush", well, you can do just that in Montana! Imagine gliding through snow-covered backcountry with a team of beautiful huskies pulling you down the trail. The only sounds you hear are the panting of the dogs and the swish of the sled runners. Imagine the thrill of driving a team as you become one unit with these well-trained, spirited athletes. No other method of travel over snow can compare with dog sledding. The energy, excitement, and enthusiasm of these amazing animals is a wonder to behold.
If the thought of trying to control a dozen yipping huskies, however, seems a bit overwhelming, you can always do the next best thing: watch someone else. Montana has become an epicenter for high-profile dog sled races and events, including the Race to the Sky. It is ranked as one of the top five sled dog races on earth. This competition is a test of endurance for both dog and driver.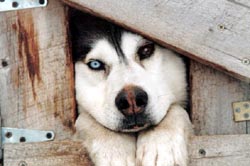 The 350-mile Race to the Sky begins at Camp Rimini just outside of Helena. Camp Rimini was established in 1942 as a military training center for sled dogs and their handlers in case of an invasion of Norway during World War II (luckily, that never happened!). The race runs from Camp Rimini to Deer Lodge. The next day it restarts in Lincoln and goes to White Tail Ranch, Ovando, Seeley Lake Community Center, Seeley Lake, to a wilderness checkpoint and back to Seeley Lake Community Center. The race continues on to the finish at Hi-Country Beef Snacks archway near Lincoln. This long, grueling, winding path makes The Race to the Sky one of the most physically challenging sled races in the world.
For a test of will such as Race to the Sky, dog sled teams are put together very carefully. The best sled-pulling dogs have quick, efficient gaits and remarkable strength for their size; most sled dogs are only around 50 pounds, yet they are real powerhouses. Every dog is important and has to be an amazing athlete, and as mushers say, "You're only as fast as your slowest dog." Each dog, however, has a specific job and position. Teams consist of leader dogs, point dogs, swing dogs, and wheel dogs. The lead dog blazes the trail and keeps the other dogs in line. Powerful wheel dogs to pull the sled out from the snow. Point dogs run behind the leader dogs, swing dogs between the point and wheel dogs. Team dogs run in the position between the wheel and swing dogs and are selected for their endurance, strength and speed.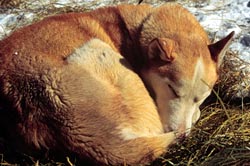 Getting dog teams to pull together takes months of training, and getting ready for a competition of the caliber of Race to the Sky takes determination and loads of planning. For example, just scheduling out the dogs' meals is a daunting task. While a normal dog might get by on 1,000 calories a day, during the racing season, a sled dog can easily consume up to 10,000 calories per day. Racing dogs burn up so many calories that they have to practically inhale their food along the trail so that they get enough fuel to keep them going. Many mushers feed their dogs snacks and small meals such as salmon steaks, beef patties, or lamb chunks every few hours throughout the day and night and bigger meals at the checkpoints.
As you can see dog sledding racing is hard work, but it is also an incredible experience. Whether harnessing a team of huskies and taking the reins of your own sled for an afternoon with some of Montana's expert mushers or watching others from the sidelines throughout the journey as they Race to the Sky, the sled dogs' high spirits and Montana's breathtaking winter landscapes will quickly win you over.
Updated: August 18, 2020