Get the scoop!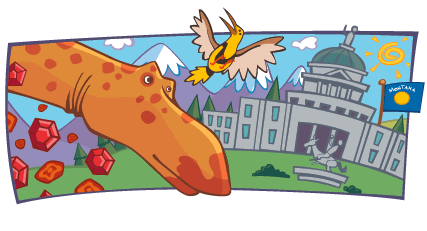 Find out about the most fascinating Montana facts such as the story behind the state's name, how the grizzly bear became the state animal, and the way in which a discovery at Egg Mountain led to the Maiasaur becoming the state fossil.

Montana Quick Facts
Montana entered the union, officially becoming a state November 8,1889.
The city of Helena became the capital of Montana only after a very suspicious and controversial election.
Montana's diverse geography covers more than 147,000 square miles, making it the fourth largest state in the nation.
Montana is bordered by Idaho on the west, Wyoming to the south, North Dakota and South Dakota to the east, and Canada along the state's northern border.
There are a total of 56 counties in Montana.
In terms of its population, Montana is only the 48th most densely populated of the 50 states.
Montana is home to the world's shortest river, the Roe River in Great Falls.
Montana holds the world record for the greatest temperature change in 24 hours. In just a day's time the temperature rose a whopping 103 degrees Fahrenheit.
The highest point in Montana is Granite Peak, located in the Beartooth Range in the Rockies.
Montana has two state gemstones, agate and sapphire.
The state nickname is the "Treasure State." Other nicknames include "Land of Shining Mountains," "Big Sky Country," and "Last Best Place."